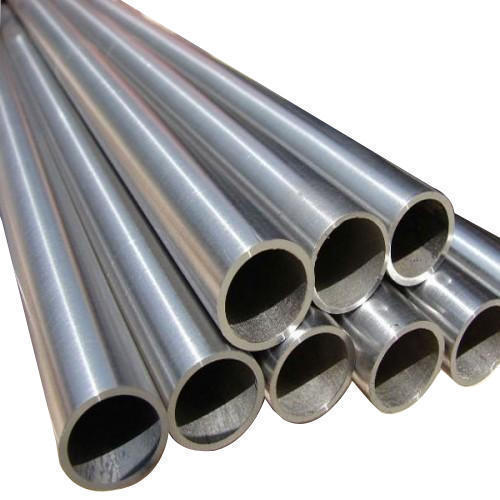 GI (Galvanized Iron) pipes are steel pipes that have been dipped in protective zinc coating to protect corrosion and rust. These pipes are ideal for the transmission of potable water, oil, natural gas and other fluids and can also be used in low cost shelter, fencing and general fabrication. GI pipes are cheaper light weight and easy to handle.
Galvanized Iron (GI) Pipes
are manufactured using mild steel strips of Low Carbon Steel Coils. These strips are passed through a series of fin rolls to give these strips a circular shape. The slit end of the strips are then welded together by continuously passing high frequency electric current across the edges. The welded steel pipes are then passed through sizing sections where any dimensional deviations or errors are corrected. These pipes are then passed through automatic cutting machines into desired lengths most probably 6 meters. These tubes are then tested for any leaks. At the end these tubes are passed through a process known as Hot-Dip galvanization (HDP). In this process pipes are immersed in zinc bath of molten zinc which alloys with the surface of the pipe to give it a protection layer.
GI pipes supplied by
Super Heera Traders
are made and tested with strict adherence to highest quality international standards of BS EN 10255:2004 and are hot dipped galvanized as per BS EN 10240:1998 with minimum 55 micron zinc coating and guaranteed thickness,
thus GI pipes we supply have following salient features:
Higher durability and longevity.
Weld consistency and integrity.
Strict adherence to quality standards.
Super protection to corrosion and rust.
Amenable to rigorous fabrication.
Can bear hydro pressure up to 50 bar.
Air blown exterior and steam blown interior.
Due to its low price and protection from corrosion and rust GI pipes are commonly used in following areas:
Oil and fuel transmission
Automotive process (Vehicles manufacturing).
Natural Gas distribution.
Low Cost Shelters/Housing.
Benefits Of choosing the best
Super Heera Traders
are a well-known suppliers of GI pipes in Pakistan. We supply GI pipes manufactured by Pakistan's No.1 Steel Company IIL.  We deliver pipes as per international standards of BS EN 10255:2004. All the GI pipes we supply go through rigorous testing and inspection before being delivered to our warehouses and to our customers.
Super Heera Traders
have already supplied to a vast number of companies of Pakistan and to other customers. Being a well reputed company we try always to deliver the best product to our customers.  All our customers are highly satisfied by the products we delivered and the prices we offer.
We supply a variety of sizes and thickness of GI Pipes. Following is the description of pipes Super Heera Traders can deliver at your doorsteps.
| Properties | Description |
| --- | --- |
| Product | GI Pipes |
| Wall thickness Standard | 1.6mm(16 gauge), 1.8mm(15 gauge), 2.00mm(14 gauge), 2.30mm(13 gauge), 2.60mm(12 gauge), 2.90mm(11 gauge), 3.20mm(10 gauge), 3.60mm(9 gauge), 4.00mm(8 gauge), 4.5mm(7 gauge), 5.00mm(6 gauge), 6.35mm(3 gauge). |
| Standard | BS EN 10255:2004, BS EN 10240:1998 |
| Nominal Pipe Size(NPS) | ½", ¾" , 1", 1-¼", 1-½", 2", 2-½", 3", 4", 5", 6", 8" |
| Length | 6 meters |
| Grades of IIL | H, M, L, EL, EEL, EEEL |
| Cross Section Shape | Circular cross section |
| Brand | International Industries Limited |